Civil Engineers & Architectural Consultants
We provide a comprehensive & Professional Engineering and Architectural service for New Houses, Extensions and Commercial Buildings. We cover all aspects from initial House or Building design, site layout design and preparation of planning application documents through to construction supervision.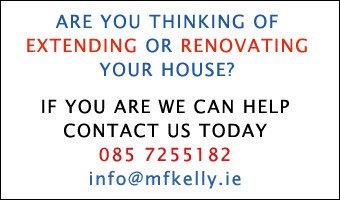 We provide the following services:
Planning Applications, House Design, Percolation Tests,
Construction Supervision, Snag lists, House Surveys, Extension Plans, Housing Schemes, Office Building Design and Extension Plans, Garage Design, Site Layout Map Kitchen Design, Agricultural Buildings, Garden Design Drawings, New Entrances, Stable Design, Slatted Shed Plans, Crèche Design Drawings, Dog Kennel Design, Yoga Studio Design and all Autocad Drawings.
See a list of the Project Areas we work in.
Contact us now for more information at:

e: info@mfkelly.ie
T: 085 7255 182
Dublin, Westmeath, Kildare, Longford,
Meath, Roscommon, Leitrim, Offaly, Laois.